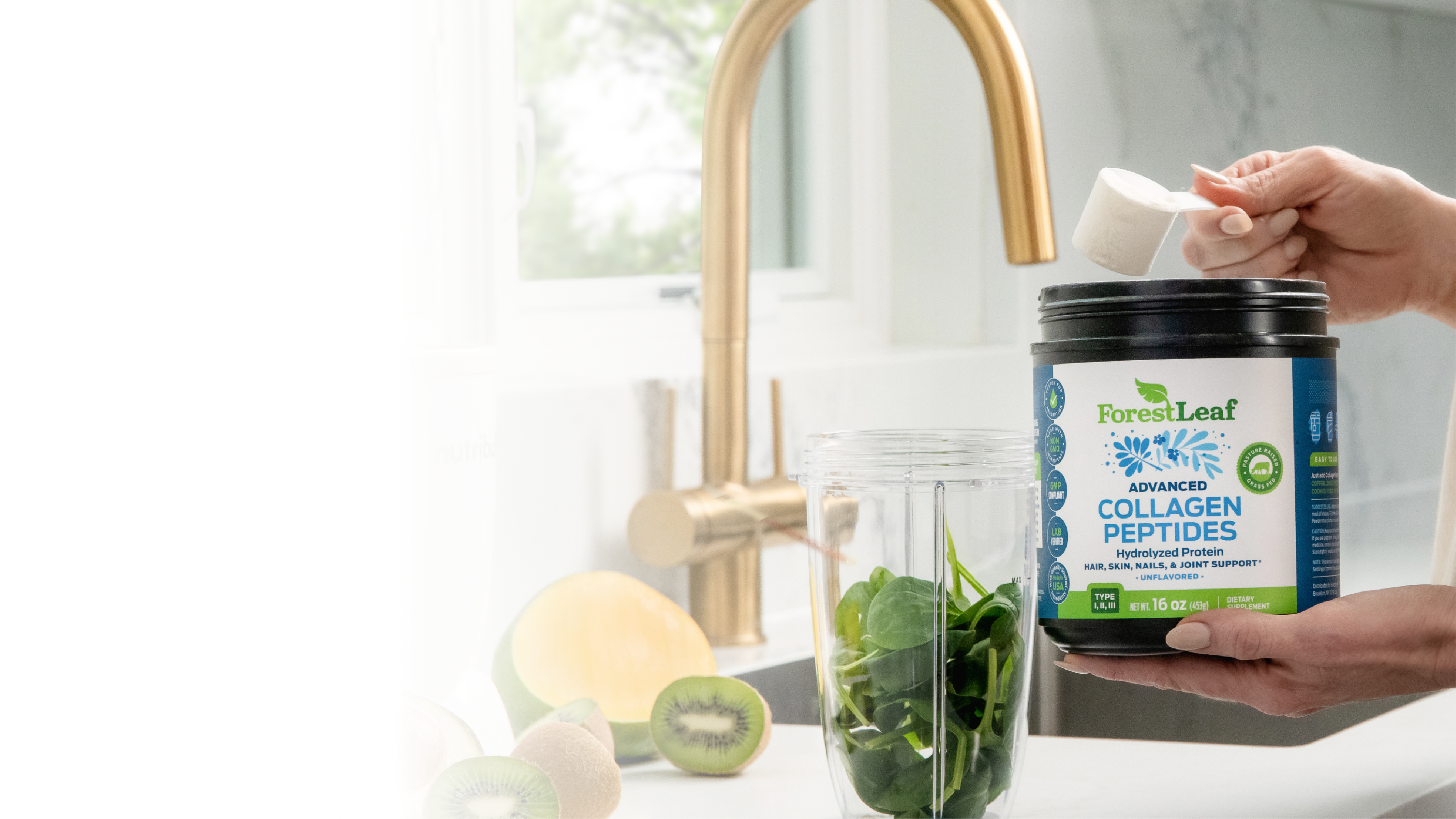 Stir
in your
benefits
Include Collagen Peptides in your everyday routine and get stronger hair, skin and nails,
Shop Now
Exceptional results grow from exceptional ingredients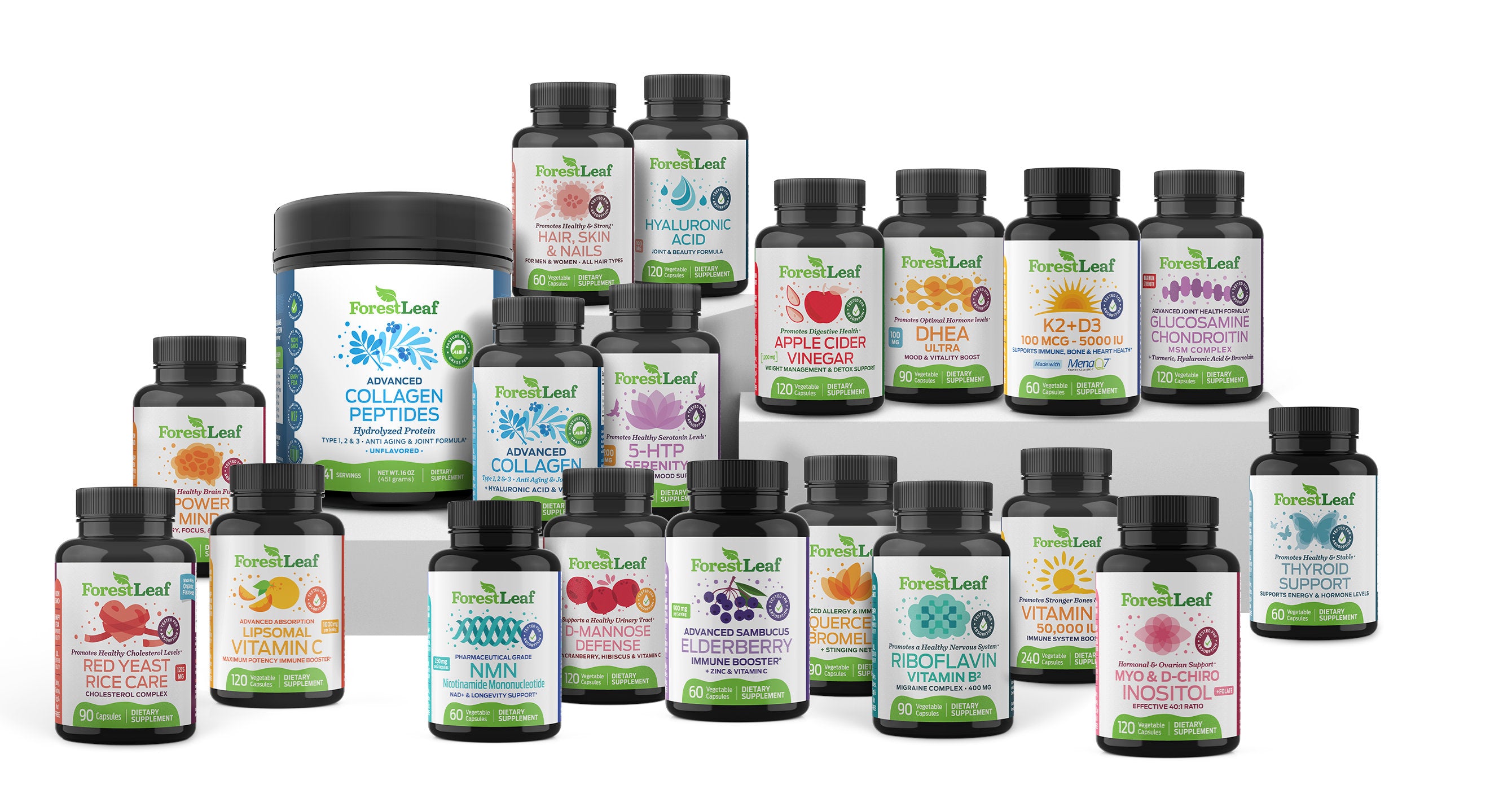 ForestLeaf is where the pristine quality of nature meets cutting-edge extraction techniques to create breakthrough levels of supplement potency. Our incredible line of body-optimizing products is designed from the root-up to fortify, restore and give your cells & systems everything needed to thrive – from the ends of your hair to the tips of your toenails.

We select only the purest Non-GMO herbs, fruits and animal products in the formulation of our high-potency, maximum-efficacy supplements. Our ingredients are ethically sourced and consciously harvested. Our full line of products is 100% Gluten Free, Egg Free, Dairy Free, and Nut Free.

Steeped in the traditions of ancient herbal medicine and guided by a deeper knowledge of current nutrition & science, our products rely on the wisdom of the past and the innovation of the modern day to offer a pursuit of wellness that is both immediately impactful and reliably enduring.

Trusting Real World Results
We've tested, re-tested and verified the purity and effectiveness of our products through independent, certified third-party laboratories. Our unparalleled ingredient standards unite to create synergistic supplement blends with health & healing properties greater than the sum of their parts.
What Customers Are Saying
Helped my migraines

I had read that B2 would be good for my migraines. I purchased this product hoping it was true. Sure enough, my headaches have been in check since I've been taking it. I highly recommend this brand and will keep buying from this seller.

Sheila R. Hall
It works!

A friend told me about collagen and how it's great for your skin. I was skeptical at first, but turning 30 a couple of months ago, I started to feel everything slowly changing... and not in a good way lol So I did some research online and found this. I am now on bottle number 2, and I love it! My hair is thicker, nails stronger, skin is tightening and more smooth. It's nice to be able to find a product that has all 3 of what you need, all wrapped up into 1 bottle. Huge money saver too!

Courtney
I was relieved thanks to your product!

Maybe if I tried this earlier, then I would have been spared from all the pain my migraines caused me. These pills are great! I experience less skull- cracking-migraines because of this.

Rita
It works… it really works!

I truly didn't think this stuff was going to work for my migraines. But I've never been so happy to be wrong! I've suffered from frequent migraine headaches ever since I was a teenager. Since taking the Riboflavin Migraine Complex I've noticed fewer attacks per month. And the symptoms are noticeably less intense. I refuse to go back to life without it!

Sheila R. Hall
Made my husband say, "Wow!"

I bought this product for many reasons but mainly the benefits that it is supposed to give to your skin. I turned 40 and didn't want my skin to start horribly aging. However, I wasn't expecting hair growth like this. I wasn't blessed with beautiful, thick hair. I have fine, thin hair that hardly ever grows past a certain length. It's helped me so much!

Melissa
Can't say enough about this product..

I started using this recently, and it has been an immense help for an energy level boost. Recently, I couldn't even last the whole day because of stress. But now, I feel like I can. My life has always been work work work, but now I can be a mom and a wife to my family after I get home. I love all the quality time I now get to spend with my kids.

Tammy

15% Savings & Free Shipping
on all Subscriptions

Free Shipping
on Orders over $49.99

60 Day Money Back
Guarantee