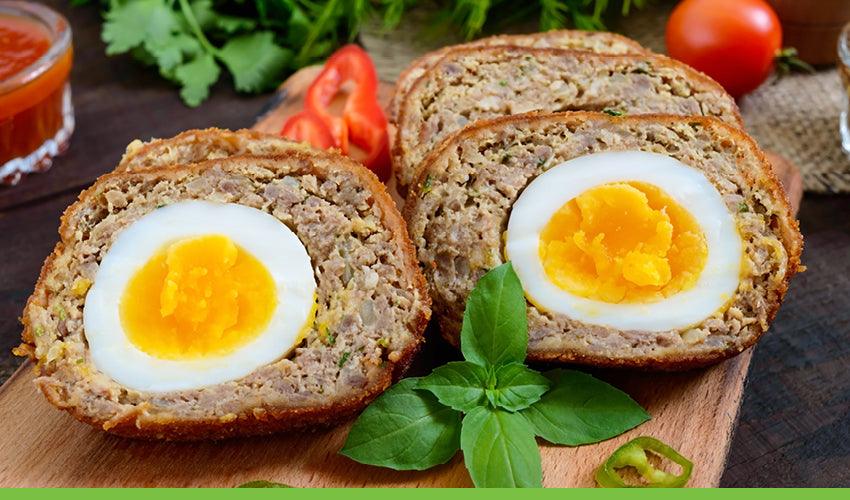 Yields 6 scotch eggs
Ingredients:
1 lb. ground pork

2 shallots, minced

1 tablespoon sugar-free maple syrup

2 teaspoons ForestLeaf Advanced Collagen Peptides

1 teaspoon dried sage

⅛ teaspoon ground nutmeg

1 teaspoon sea salt

¼ teaspoon black pepper

¼ cups pecans

3 tablespoon coconut flour

1 teaspoon ground cinnamon

6 soft-boiled eggs

High-heat cooking oil, for sautéing
Instructions:
In a large bowl, combine the ground pork, shallots, maple syrup, Beef Gelatin, sage, nutmeg, sea salt, and black pepper. Use a fork to mix it

together well and set it aside.

Add the pecans, coconut flour, and cinnamon to a food processor. Process until the mix is finely crumbled. Dump it out into a wide, shallow dish or plate.

To assemble the eggs, divide the meat mixture into 6 even portions. Take one portion and flatten it out to cover your palm. Place a soft-boiled egg in the middle and gently wrap the meat around the egg, careful not to break the egg. Roll it between your hands to smooth out the edges. Roll the egg in the ground pecan mixture until all sides are covered in a thick coating.

Lightly grease a wide sauté pan with high-heat cooking oil and heat over medium heat. Add 2-3 scotch eggs to the pan at a time, rotating as they cook until all sides are browned. Remove to a cooling rack for 5 minutes before serving.
---